An investment account is not a retirement plan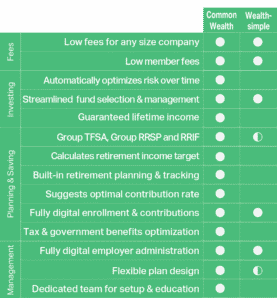 Online investing has opened up the market to a new generation of investors with the allure of big potential payoffs. While investment platforms have successfully enabled the average citizen to bypass high fees associated with banks and insurance companies, studies have shown that high-risk, high-reward trading is not a successful retirement strategy. When it comes to helping your team save for their future, employers benefit most from a digital group retirement plan with built-in planning and investments that are tailor-made for retirement.
Answers to your top retirement questions
Financial technology platforms have modernized group retirement plans with digital experiences that have driven down costs. This has made group retirement plans more accessible to small and medium-sized businesses, which have not traditionally been able to afford them. However, not all group plans help you address your top retirement questions – in fact, most have little to no built-in retirement planning at all.
At Common Wealth, we provide an easy way to plan, save, and grow your money for retirement. We answer top retirement questions like:
How much income will I need in retirement?
What do my current savings provide in retirement income?
How much will I get in government benefits?
Do I have a retirement income shortfall?
How much do I need to save to close the gap?
A retirement plan for life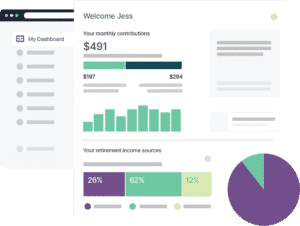 We believe all Canadians deserve a plan that puts their needs first, regardless of how much they earn or where they work. That's why we built the industry's first low-fee, digital retirement platform that stays with you for life!
Our user-friendly experience offers intelligent in-app suggestions, backed by years of in-depth research, to make planning, saving, and investing easy. With low fees, a proven investment strategy, and plan continuity, your staff will benefit from the best possible financial outcomes.
Built-in personalized planning
Common Wealth is the only retirement platform on the market with built-in personal planning, so you know how much to save, where to save – TFSA, RRSP, or both – where to invest, and how much to expect from government benefits.
The plan suggests the monthly income you'll need in retirement and a savings schedule to help you reach that goal.
Centralized management
The Common Wealth plan helps you track all sources of retirement income – your workplace contributions, personal savings, and expected government benefits – and evolves as your savings and income change, so you always know how you're progressing towards your goals.
In just a few clicks, you can transfer in any existing RRSP or TFSA to consolidate the management of your retirement investments and take advantage of our low fees.
Optimize tax & government benefits
At retirement, we provide withdrawal suggestions to help you to minimize taxes and maximize every dollar of government benefits you're entitled to – this type of insight is not offered in any other retirement plan.
A proven investment strategy for retirement

Investments tailor-made for retirement
Wealthsimple offers users an easy way to define their investment risk level and automatically places them in a corresponding fund. The challenge is that not everyone has the financial knowledge to properly define their risk profile. More importantly, Wealthsimple investment funds are not optimized for retirement. This means members can get stuck in a low-risk fund that generates poor results over time.
The reality is that most people want an easy, proven strategy to maximize the growth of their money. Research has shown that low-fee target date funds (TDFs) are growing in popularity and can enhance retirement wealth by as much as 50% over time.
At Common Wealth, we automatically match and invest your savings in an age-appropriate target date fund from BlackRock®, the world's largest asset manager. This means you benefit from considerably more experience in asset allocation and fund management than through Wealthsimple's investment algorithms.
With Common Wealth, your plan automatically adjusts to become
more conservative as you near retirement.
BlackRock® target date funds offer a mix of stocks, bonds, real estate, and infrastructure, with over 10,000 underlying funds across different types of investments and markets to better protect against risk.
Our one-click investing lets you 'set it and forget it', while the plan works to build your nest egg for retirement. It also eliminates any risk that employer contributions will be invested in highly volatile funds.
Greater value for money
Affordable lifelong plans Our member fees are 50% -70% lower than what the average Canadian investor pays. That means you keep more of your invested earnings and ultimately need to save less to reach your retirement goals compared to legacy plans from insurers. Also, while Common Wealth and Wealthsimple both offer affordable employer and member fees, you get more value for your money with the Common Wealth platform.
What's great for employees is when they retire or move on from your company, they retain access to a low-fee plan so they can continue to grow their savings for retirement.