A comparison of Manulife, Sun Life, Canada Life & Other Insurers
Selecting a modern workplace plan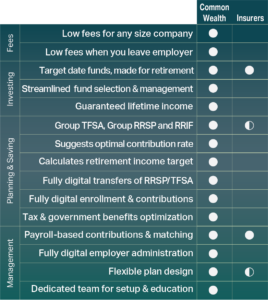 Until now, there has been little choice when it comes to group RRSP and TFSA plans. The insurance industry has dominated the market with high-fee, complex investment lineups that have little to no retirement planning, making it cost prohibitive for many companies to offer retirement savings plans, particularly small and medium-sized businesses.
With changing trends, evolving consumer behaviours, and the demands of a modern workforce, employers are looking for innovative solutions that offer ease of use, low fees, proven investment strategies, and plan portability so staff benefit from long-term financial security.
A digital retirement platform with a member-first approach
We believe all Canadians deserve a plan that puts their needs first, regardless of how much they earn or where they work. That's why we built the industry's first, low-fee, digital retirement platform that stays with you for life! Common Wealth is backed by years of in-depth research to make planning, saving, and investing easy, while delivering the best possible financial outcomes for members.
A retirement savings plan for life
Built-in personalized planning answers all your retirement questions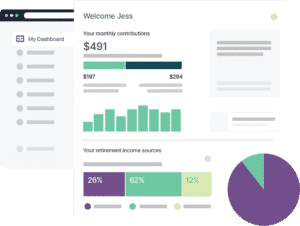 Common Wealth provides a lifelong low-fee retirement saving and investing plan for members. It's the only plan on the market with built-in retirement planning, so you know how much to save, where to save – TFSA, RRSP, or both – where to invest, and how much to expect from government benefits.
The plan suggests the monthly income you'll need in retirement and a savings schedule to help you reach that goal. In just a few clicks, you can transfer in any existing RRSP or TFSA to take advantage of low fees and consolidate the management of your retirement investments.
Common Wealth helps you track all sources of retirement income – workplace contributions, personal savings and expected government benefits – and evolves as your savings and income change, so you always know how you're progressing towards your goals. At retirement, in-app withdrawal suggestions will help you to minimize taxes and maximize every dollar of government benefits you're entitled to.
Industry innovation and investment trends
Insurance companies have promoted the variety of funds as a benefit, but the reality is most employers do not have the desire to select and oversee funds and plan members have little interest in learning how to invest – they simply want a proven strategy to grow their money.
Modern financial technology platforms like Common Wealth are trending towards investment portfolios called target date funds, which are tailor-made for retirement and can enhance retirement wealth by as much as 50%.
Making smart financial choices easy with automatic investing
Common Wealth's streamlined investing approach automatically matches and invests member savings into an age-appropriate target date fund from BlackRock®, the world's largest asset manager. This gives you all the benefits of a professionally managed fund without having to become an investment pro.
BlackRock® target date funds offer a mix of stocks, bonds, real estate, and infrastructure, with over 10,000 underlying funds across different types of investments and markets to better protect against risk. They automatically rebalance and become more conservative as you near retirement.
Our one-click investing lets you 'set it and forget it', while the plan works to build your nest egg for retirement. It also eliminates any risk of trading employer contributions in highly volatile individual stocks or cryptocurrencies.
A low-fee plan for life
Our member fees are 50% -70% lower than what the average Canadian investor pays. That means you keep more of your invested earnings and ultimately need to save less to reach your retirement goals compared to other plans. Unlike the high-fee rollover scenarios common in the industry, when your employees retire or move on from your company, they keep their plan and access to affordable fees, so they can continue to grow their savings – job to job and into retirement.
>> Explore more employer benefits